PLUMBERS FROM WAR-TORN NATION BUILD SKILLS FOR THE FUTURE, EXPRESSING GRATITUDE FOR THOSE WHO MAKE IT POSSIBLE BACK HOME AND ABROAD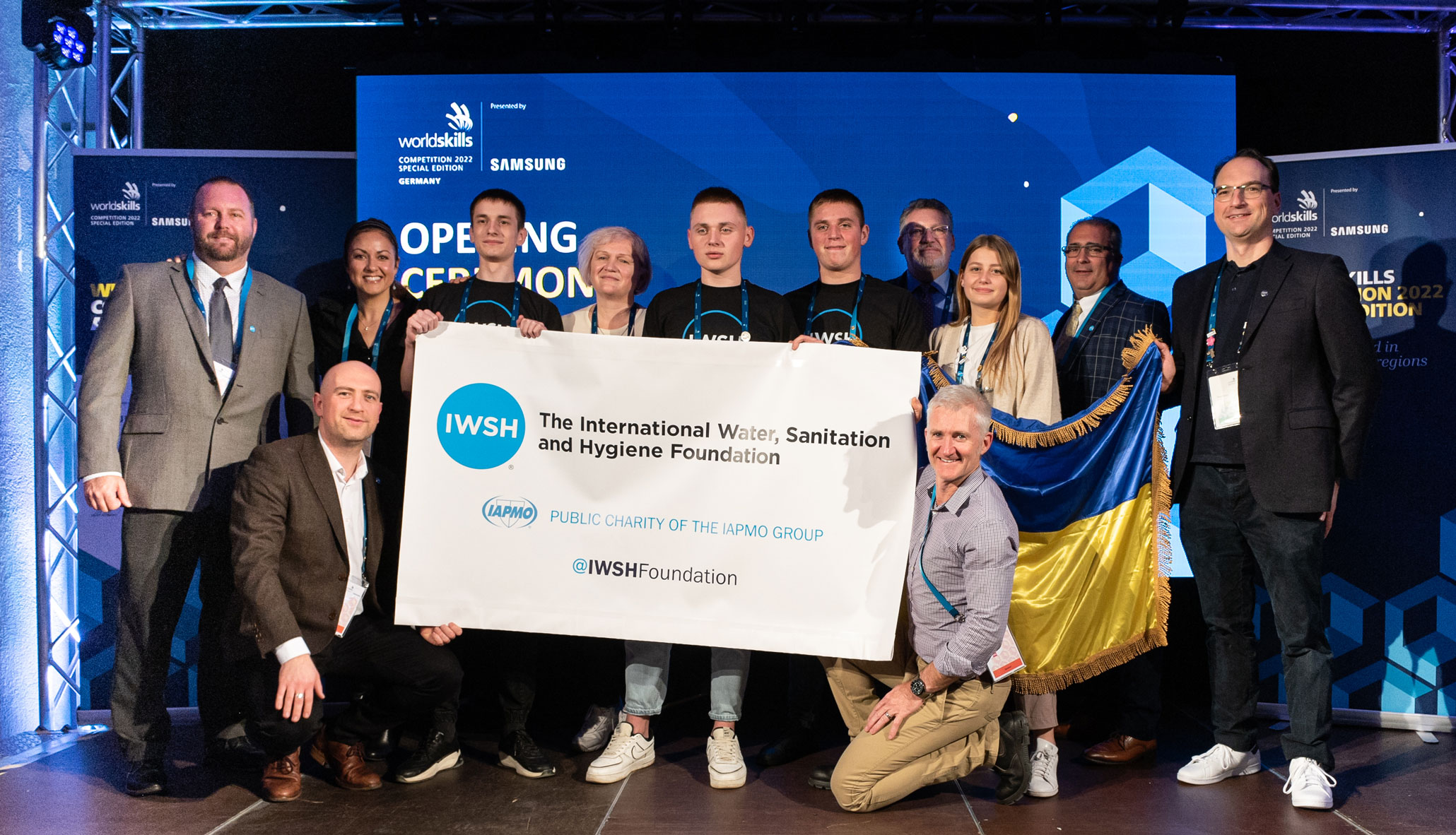 Against the backdrop of a war in their home country, three young plumbing students from Ukraine participated in a special program at the WorldSkills Competition 2022 Special Edition in Lahr, Germany, designed to showcase their talents and help prepare them for their careers.
Andrii Yaroshevskyi, Andrii Piklovskyi and Yurii Rybak, each 17, took part in a new Plumbing Champions™ activity that was sponsored by the World Plumbing Council and delivered by the International Water, Sanitation and Hygiene Foundation (IWSH), IAPMO's nonprofit organization. Mentor Olga Matseiko and interpreter Anna Khodakivska accompanied the trio, who are students at the GROHE Installer Vocational Training and Education (GIVE) Program and training academy in Lviv, Ukraine. The event was held Nov. 2-4 at GROHE Technikum in Lahr, Germany.
"We're delighted to welcome three students from Ukraine for this new Plumbing Champions project," IWSH International.
Program Director Grant Stewart said. "They are here to learn more about installing water, wastewater, toilets, and basins — all as a training exercise."
The team occupied a workshop in the heart of the competition and over the three days of the event completed a series of training activities based on the WorldSkills Plumbing and Heating test project standards and specifications, including pipe bending, measuring, joining methods, installation of fixtures and appliances, connections, testing, and commissioning. Their work was documented and recorded to create educational resources for WPC members and IWSH partners.
Yaroshevskyi said he was very proud to become a Plumbing Champion.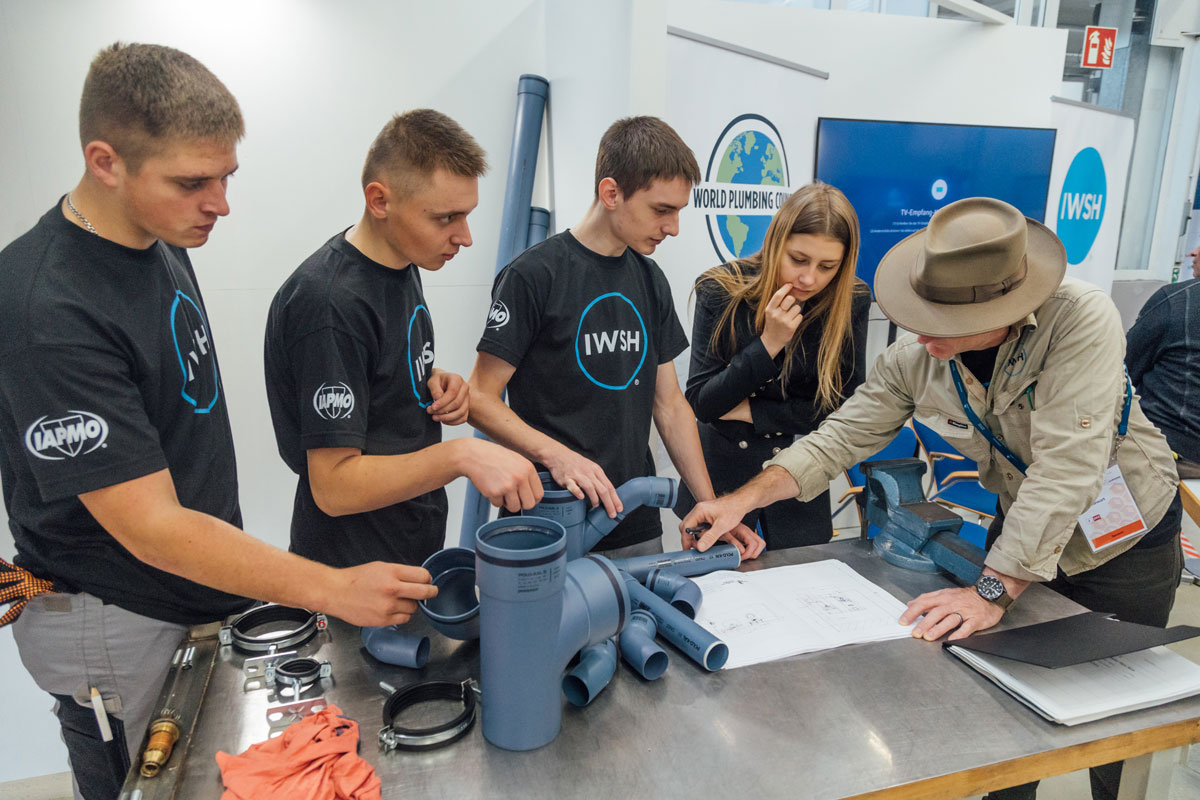 "I am still studying, but then I hoped that someone from Ukraine could come here as a participant," he said. "And this is against the background of all these events, which is the war. Because of the defenders who protect us, thanks to the people who protect Ukraine, I am here. Had they not existed, I would not be here now."
Khodakivska, the translator, said the group was eager to learn and participate.
"They are really inspired because they felt the atmosphere and the help of the other experts, and they tell me that they want to learn and practice more to be here in the next competition," she said." They are tired, but happy."
IAPMO President Dave Gans — attending his first ever WorldSkills competition, with Vice President Steve Panelli — marveled at the students' abilities.
"It feels great to have these young Ukrainians come out, showcase their skills and learn," he said. "I was incredibly impressed to see how far along they are in the project and to see the craftsmanship of these three 17-year-olds from Ukraine."
In a letter to IWSH Chair Gary Hile, Ministry of Education and Science of Ukraine Acting Minister Andrii Vitrenko also expressed the ministry's gratitude.
"As a co-organizer of the WorldSkills Ukraine competition at the national level, [the] Ministry of Education and Science of Ukraine certifies respect and express gratitude to experts [with the] International Water, Sanitation and Hygiene Foundation for the support and kindly attitude to [the] Ukrainian team, [and their] sincere efforts to share knowledge with Ukrainian students. Every student received impressions [that were] unforgettable.
"[The] Ministry of Education and Science of Ukraine will use that experience to improve system of training plumbers closer to the best global standards."
In response, Hile thanked Vitrenko for his kind words and said it was an honor and a pleasure to support the students through this Plumbing Champions project.
"Their energetic presence and enthusiastic participation, despite the adversity they are facing at home, was an inspiration to so many of our international partners and you can be very proud of them," his letter said.
"As a WorldSkills Global Industry Partner, our organization [IAPMO] recognizes the role for industry, education, government, and policy makers to work together to raise the profile and recognition of skilled professionals around the globe: increasing the abilities, status, and economic prospects of young people. The industry groups involved in our recent Plumbing Champions initiative in Germany will continue to explore ways to develop further training and skills development opportunities – including for Ukrainian students. We are thrilled and encouraged by your advice that the Ministry of Education and Science of Ukraine can use these experiences to improve training systems for plumbers and sanitary installers in Ukraine into the future."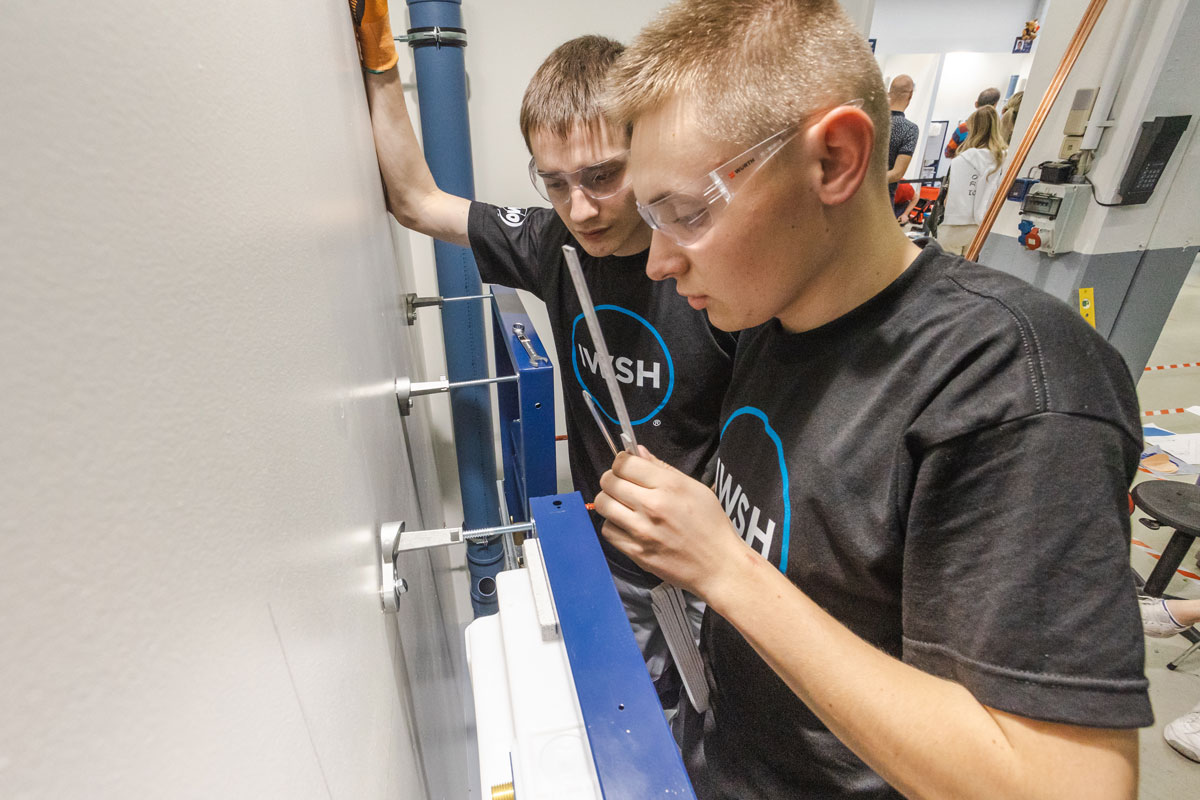 Given the Russian invasion and subsequent war in Ukraine have been a horrific backdrop to life in Europe during the past year, IWSH Managing Director Seán Kearney said the Ukrainian team's presence was an inspiration to all of those involved in this latest WorldSkills event. The connection with Ukraine is particularly poignant from a WorldSkills perspective, he said, as the WorldSkills movement itself was born in the 1950s, emerging from the ashes of World War 2, as European countries sought to find new ways to reconnect and educate together, encouraging their young people to expand their horizons and rebuild lives and communities through skilled trades and careers.
"Europe is going to face similar rebuilding challenges in the years ahead, as the war in Ukraine reshapes economies, energy supply, and security not just here in Europe but with ripple effects across the world," Kearney said. "Quality training and education, supporting young people to shape new opportunities and create better lives for themselves in the future will be vital, and global industry will have a critical role to play. So that is where — from the IAPMO perspective — our IWSH Foundation and new programs like Plumbing Champions and the existing Community Plumbing Challenge can support; small steps, but in a very important direction.
"Welcoming this Ukrainian group to the event in Germany — Andrii, Andrii, Yurii, Olga and Anna — spending time with them, working together, and learning about their lives back home today, was a humbling experience for all of us: lessons we need to harness and build on for the years ahead."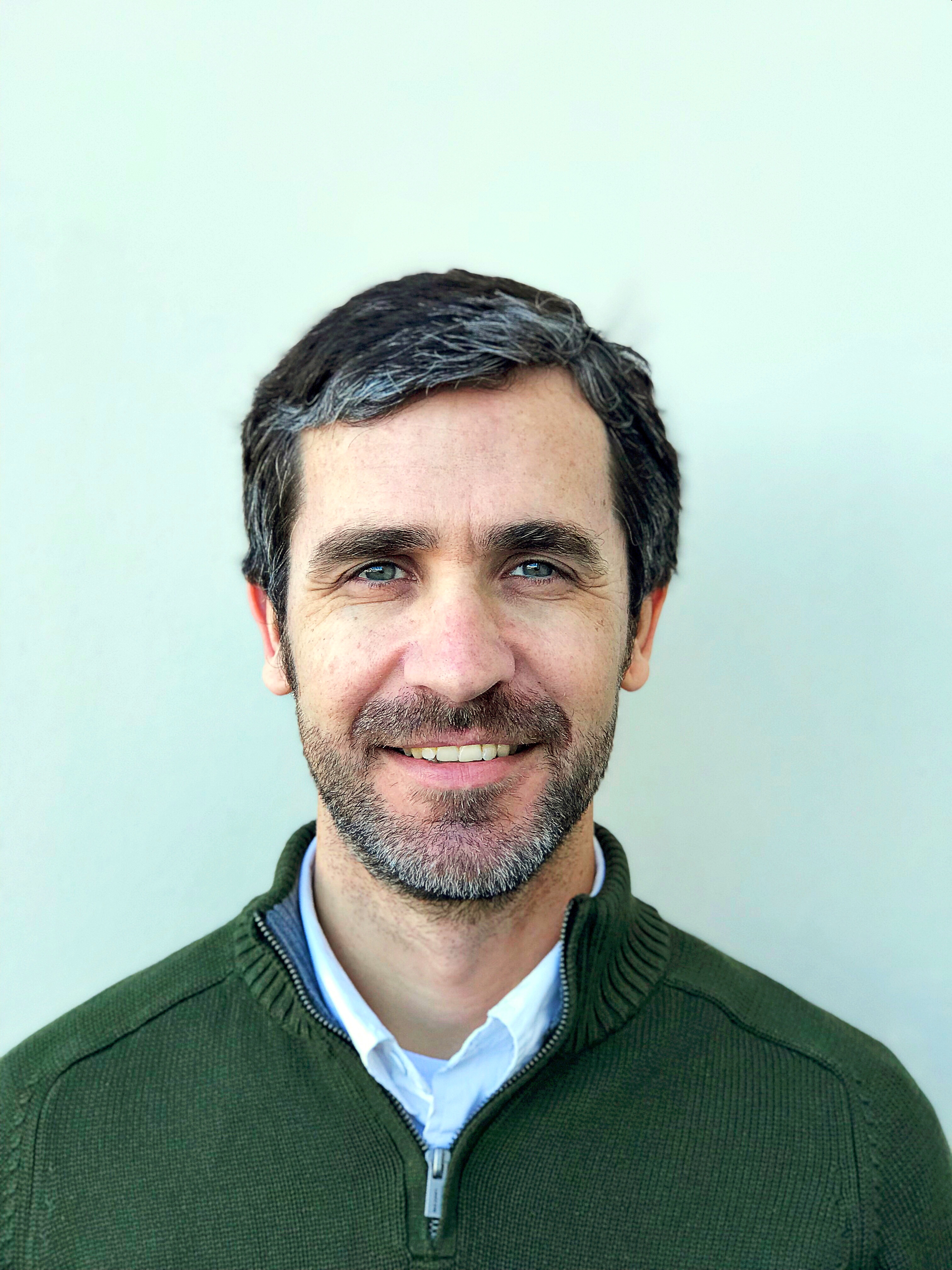 Mike Flenniken is a staff writer, Marketing and Communications, for t IAPMO. Prior to joining IAPMO in 2010, Flenniken worked in public relations for a group of Southern California hospitals and as a journalist in writing and editing capacities for various Southern California daily newspapers.
Last modified: February 28, 2023