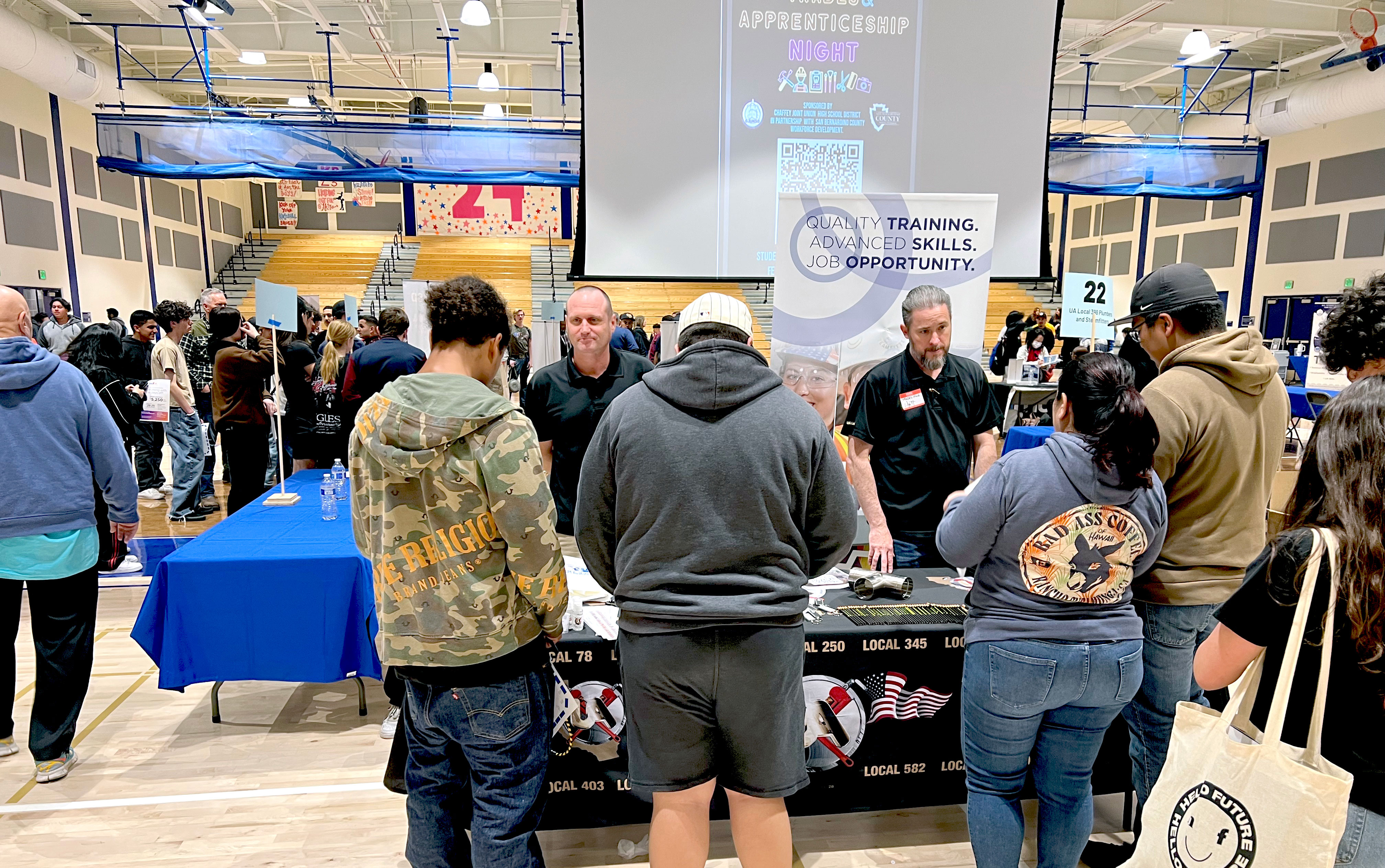 UA LOCAL 398 AMONG PARTICIPANTS AT EVENT INTENDED TO INTRODUCE STUDENTS TO ALTERNATIVES TO THE TRADITIONAL COLLEGE PATH
---
Representatives from more than two dozen trade organizations assembled at a Southern California high school recently to educate and remind students that attending a traditional four-year college or university is not the only path to a successful career.
A joint offering between the Chaffey Joint Union High School District and San Bernardino County Workforce Development, the March 9 event at Alta Loma High School in Rancho Cucamonga was open to the more than 23,000 students throughout the district, which includes eight comprehensive high schools, an online high school, a community day school and a continuation high school. Buses were provided for students at some of the schools.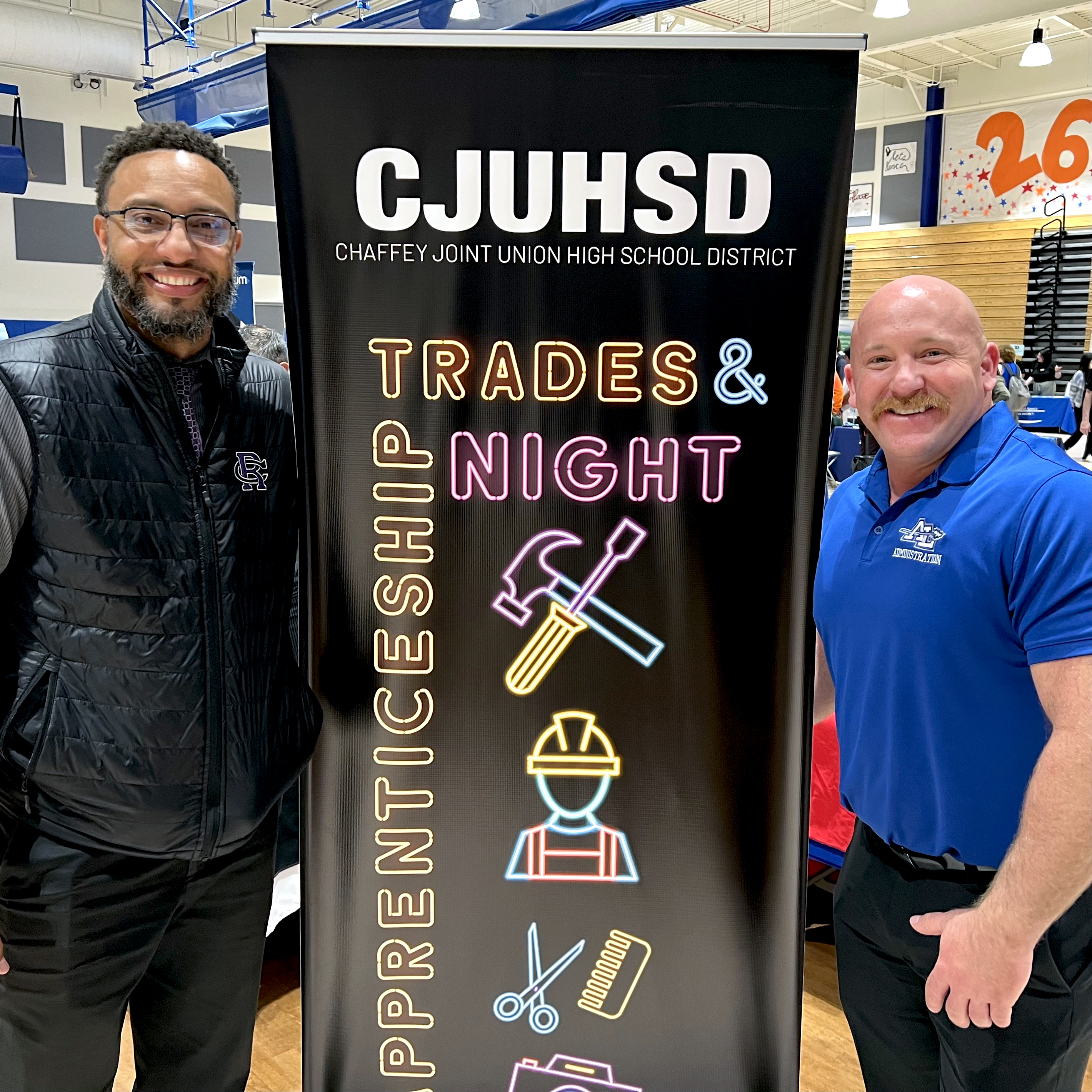 ---
CJUHSD Director of Career Readiness Eduardo Zaldivar said the thought that people must attend college is being reframed, and that while everyone could benefit from post-high school education, traditional four-year college is not the only way to go.
The district offers a variety of Career Technical Education (CTE) Pathways, including one in Building and Construction Trades.
"CTE is really a focal point for our district as a whole and it has been for years, but sometimes it gets overshadowed with the four-year push," Zaldivar said. "It's OK to be ready for college but pursue a trade; that's perfectly fine. You can do both. We want to give kids options and open doors."
Alta Loma High School Principal Jason Kaylor said because it has been the traditional path, educators are good at promoting kids to college, he said, but not enough is known about the trades. He estimated that about 60% of graduating seniors will attend a four-year college, leaving many with uncertain futures for whom the school cannot account.
"That's a lot of kids that we don't know where they're headed off to, so if we can dial them into a trade, know that they're actually following that trade, that helps us because we know that they're more than likely going to finish that if they're signed up," he said.
Kaylor acknowledged that while educators don't know as much about the trades as they should, they are trying to learn more so they can educate students about them.
"My guidance counselors are here, all my assistant principals are here, so we can actually talk and learn a little bit more because when we give classroom presentations, we have to know about them," he said. "There are kids who are like, 'I do not want any more school, but here's what I'm thinking about doing.' All right, we actually have a connection for you and can get you in line with somebody who's interested in having you pursue this."
Alta Loma High School Assistant Principal Elizabeth Skiles said the school also holds a Career Day, which tends to focus on careers stemming from four-year degrees, but parents were asking for an event like this one.
"We wanted to make sure [students] had their own specific event where all the tables are some kind of trade to give them that focus as well," she said. "It was meant to give them their own night, because we do a lot of things that are just college."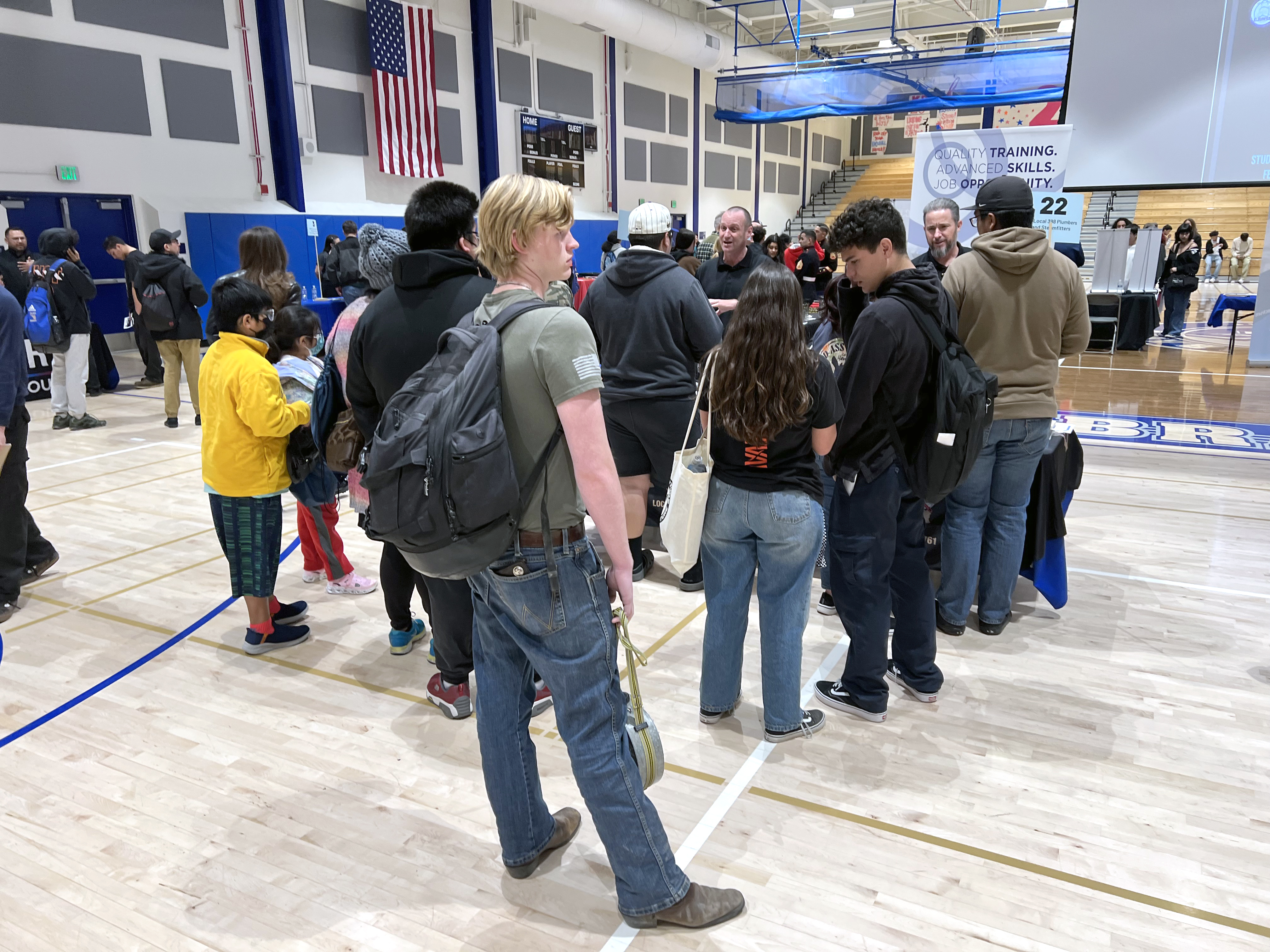 ---
United Association Plumbers & Steamfitters Local 398 was among the organizations represented, with Business Representative David Hanson and Marketing Representative Wyatt Stiles talking to a steady stream of interested students throughout the evening about their apprenticeship program.
Hanson said Local 398 representatives visit high schools all over its coverage territory, which runs west to east from Pasadena to Rancho Cucamonga, and down to Corona, Chino and Eastvale.
"We at Local 398 have always felt an obligation to serve the communities in our jurisdiction," he said. "Helping young men and women develop skills that will help them grow and feed their families is simply perpetuating the benevolence that was shown to us. Partnering with local schools and city governments to allow pathways to jobs with outstanding benefits is something for which we should all be striving."
Hanson added that the COVID-19 pandemic interrupted their communications with a number of high schools, but such events are picking back up again.
"It's great when we get help getting our name back out there," he said. "Wyatt is lined up all through summer, with at least one a week. Next week he has two or three, actually. We're getting busy."
Stiles said he usually breaks the ice by asking high school students if they know what a plumber does. Since they typically describe someone who comes and fixes a toilet or snakes the drain, he said he likes to enlighten them on a plumber's many potential roles.
"I talk to them about different jobs that we do, whether it's designing on a computer or doing underground in the street to refineries at the ports, that kind of stuff," he said. "I'll just start to tell them there's a broad range."
Stiles added that many people are unaware that apprentices make money while they learn and complete the program without student debt.
"It sparks their interest when you start saying no student loan, because that's all they're geared for," he said. "They're all expecting this big student loan; that's what everybody's teaching them."
Rancho Cucamonga High School Principal Joshua Kirk called it a phenomenal event, and said educators need to continue to look at ways to build off of it because students are so frequently told that they need to go to college.
"There are great opportunities here; union jobs, paid apprenticeship jobs, great opportunities to be able to have great careers and you don't necessarily have to take the college route," he said. "You can still make a great living and still enjoy life and have a lot of success, even if it doesn't mean you've got to go the route. And that's OK."
Gaby Davis, IAPMO CAO and parent to a student at Alta Loma High School, shared her appreciation for the Trades & Apprenticeship Night hosted by the district.
"As a parent, I hear far too often, 'Which college is your son going to after high school?' It's an assumption, and an unfair one, that college is the only option," she said. "My hope is that parents and teachers will understand that our students need options,
and they should choose their own path. College is only one option; trades are another. Hosting a trades night at our high schools shows students that we want them to understand which options are available to them so they can choose their own path after high school. I am beyond thrilled that Principal Kaylor and the leaders at the district office hosted the Trades & Apprenticeship night, and I'm hopeful it will continue in the years to come."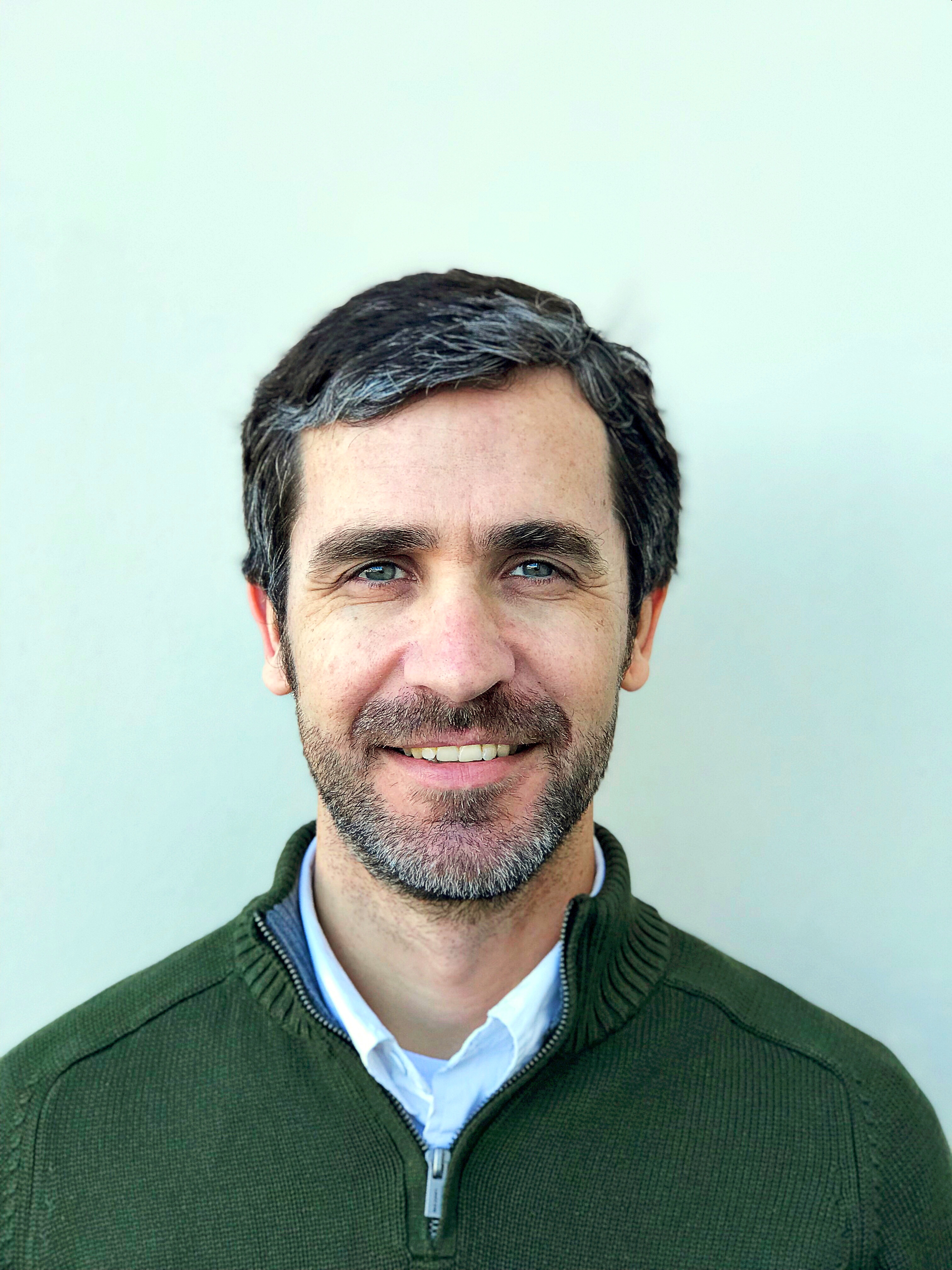 Mike Flenniken is a staff writer, Marketing and Communications, for t IAPMO. Prior to joining IAPMO in 2010, Flenniken worked in public relations for a group of Southern California hospitals and as a journalist in writing and editing capacities for various Southern California daily newspapers.
Last modified: June 13, 2023