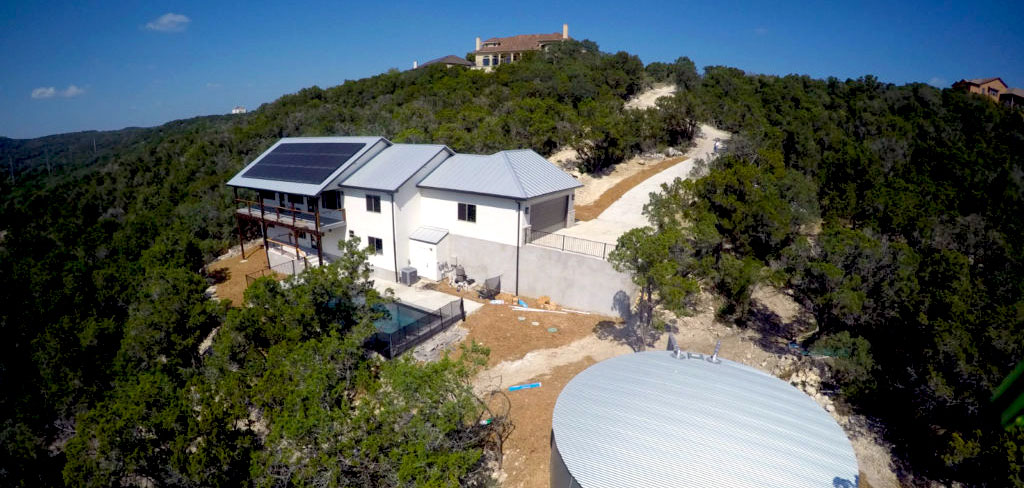 SUSTAINABLE HOMES, INC., PROVING HIGH-PERFORMANCE HOMES ARE SMART BUSINESS, NOT TREE-HUGGING HIPPIE HOUSES
Darrel McMaster comes from a family of homebuilders. By his count, his family has produced eight general contractors since 1945. "All we do is build," McMaster says. "I kind of followed in line."
Where McMaster has distinguished himself is in the pursuit of building net-zero homes at scale. His company, Sustainable Homes, Inc., boasts on its website, "Building Tomorrow's Homes Today," yet this strategy did not originate in a political or ecological ideology. McMaster's father impressed upon him that the goal for anyone in construction should be to bring down the price of a home, constructing it faster and better. He began to wonder if the most economical home for a buyer wouldn't be one that ran off the environment, generating its own utilities.
Since moving from California — where McMaster's observation was that the solar power movement was once limited to "some old hippies who lived in the mountains" — to Texas, McMaster has worked in earnest to solve the problem of taking a home entirely off the grid utilizing geothermal HVAC, solar power, rainwater and wastewater. "In Texas, oil is king," McMaster says. "I wondered if I was in the right place."
Gary Klein met McMaster in 2011. Over the last decade, working together through his Gary Klein and Associates, he has come to recognize McMaster's position as a guru for high performance homes. Both have come to realize that in cities all over the United States builders can create homes that draw 100% of their water from rain, with no reliance on wells or municipal sources. Once settled in the cistern, the water receives no energy from the sun, preventing microbial growth. Particle and charcoal filters and ultraviolet light within the cistern treat the water before it reaches a faucet tap, killing anything that might enter the home. Klein claims that water quality reports from his tanks are as good, if not better, than the water from a municipal source.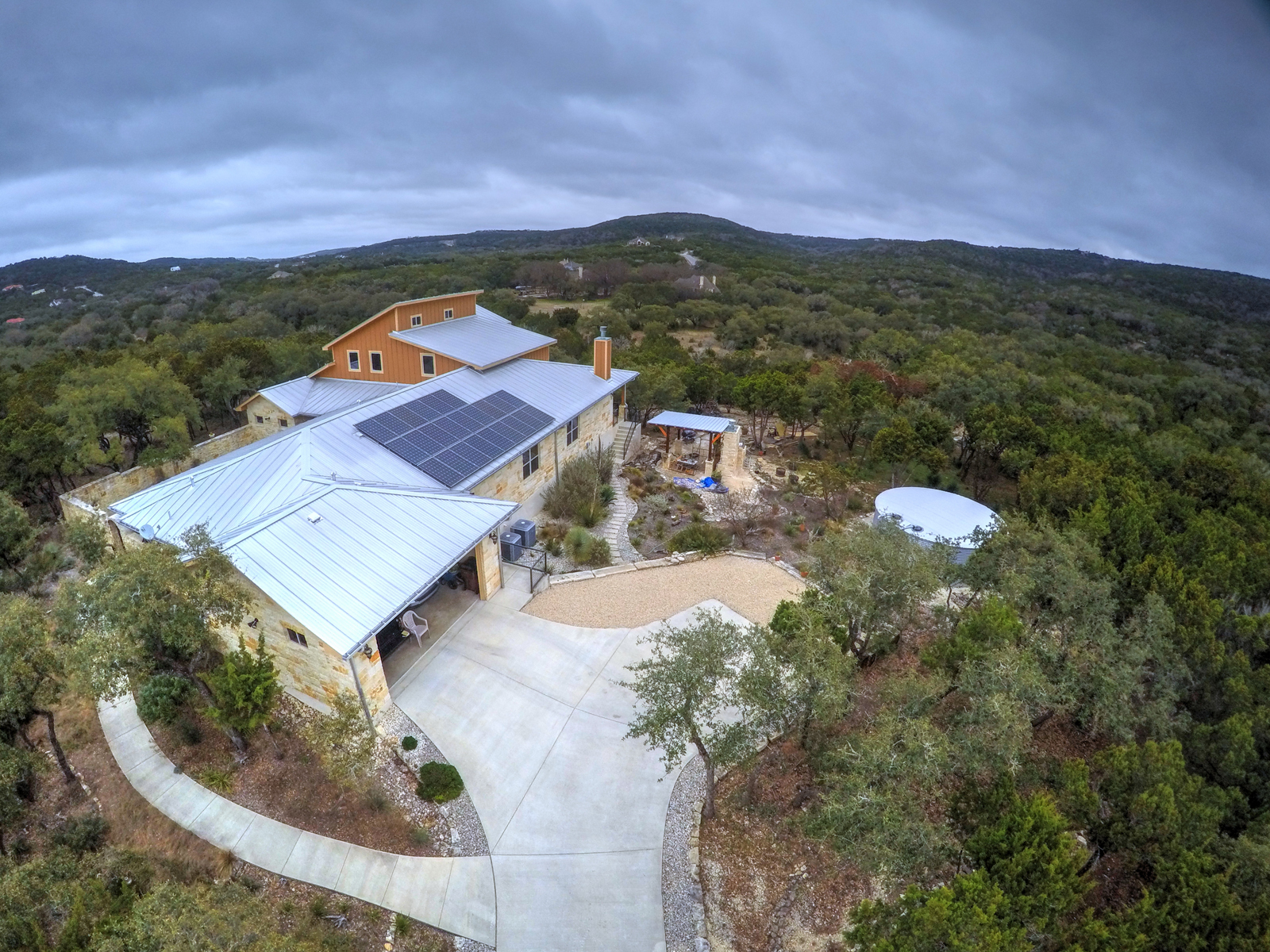 A storage tank holding 70,000 gallons can provide enough water for a small family for two years without sacrificing a reasonable pressure flow. Some reliance is placed upon the environmentally concerned consumer who will limit or reduce outdoor watering and discourage, for example as Klein faces in his own household, a teenager taking a prolonged shower.
"We seek like-minded individuals, who know that they were created for a purpose, to make a life changing impact on the world around them," says the Sustainable Homes website. "With each home being its own laboratory, we were able to glean performance information to reduce the power demand by 70% over a standard built home." Some efficiencies can be found just in the placement of the hot water tank, ensuring that hot water travels faster from the hot water tank to the faucet. "People want to take their shower," Klein says. "And they don't want to spend 25% of their time waiting for water to get hot."
Placing a tank of that size can be a challenge. One advantage for the Texas consumer, McMasters has discovered, is a lot size large enough for an outdoor cistern that could collect enough rainwater to take a home entirely off the local municipality's plumbing grid. To date, McMasters has brought at least 125 homes online that use rainwater exclusively for potable water needs, even satisfying fire suppression requirements from the local fire department. His website claims that "Sustainable Homes has built over 50% of the highest scoring verified homes (as rated by the National Association of Home Builders Green Building Program) in the state of Texas, and 10% nationally."
Even during historic drought conditions, McMasters has not seen one of his customer's tanks fall below 50% after the initial charging performed during construction. The tanks are supported by cutting-edge appliances that use less water, like front-loading washers, and faucets with built-in shutoffs. Technology provides the homeowner the ability to monitor, and shut off, water usage from any part of the household with phone app technology.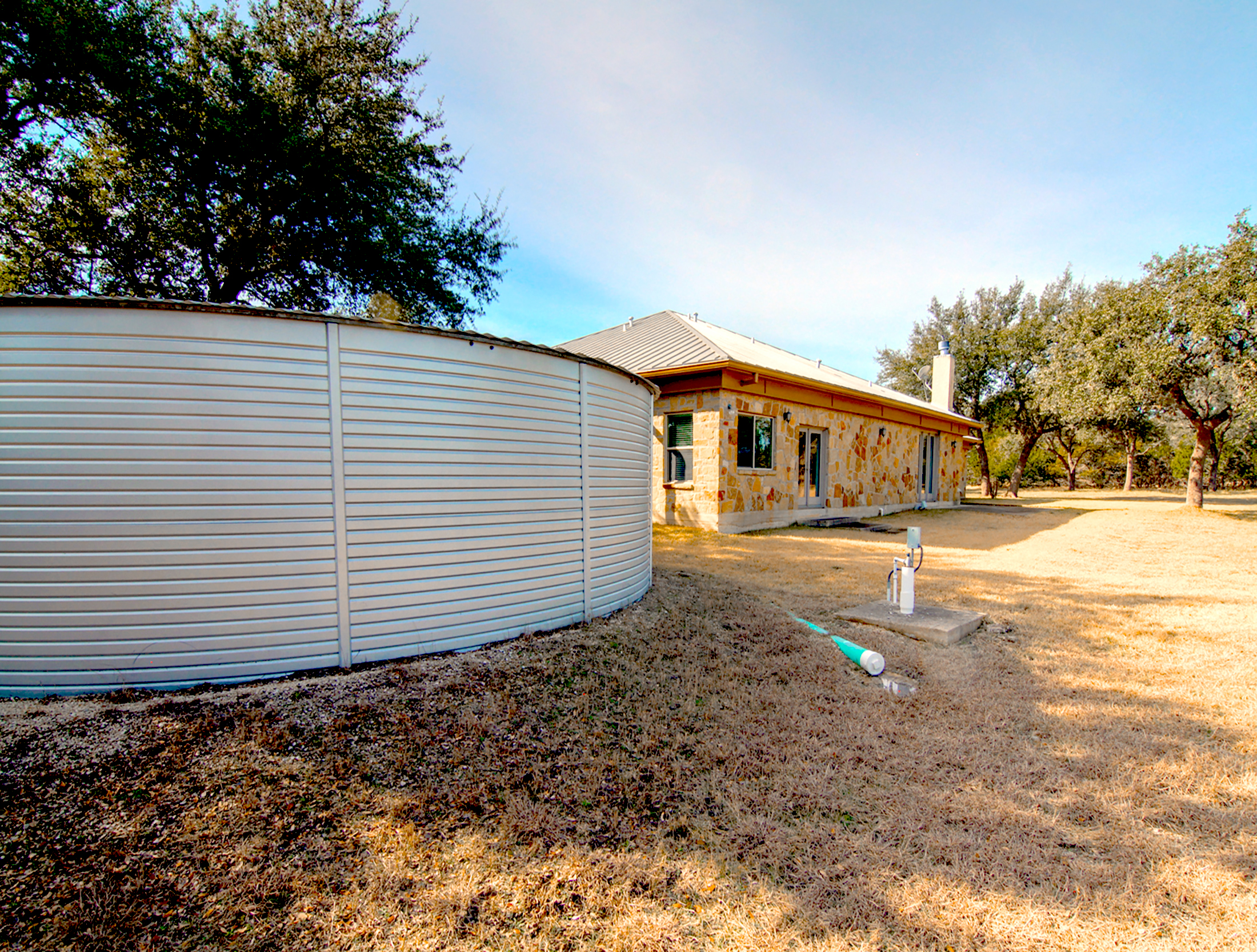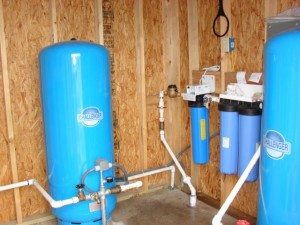 McMasters credits his customers' practicality. He estimates that only about 15% of his business is dedicated to those who are true environmentalists. More than half are what he calls "good math students," who recognize that the higher initial investment in net-zero technology is outweighed with its short payback. Within four to five years, the homeowner can recoup the investment through lowered utility bills – in the case of water, sometimes liminating the water bill entirely. Not only that, some buyers finance the net-zero technology with an expanded mortgage, with more tax-deductible interest. The higher interest that the owner is deducting from their taxes can be offset by eliminating water bills, which have limited or no tax deductibility. "My customers can say that the cost of their utilities is tax deductible. Are yours?"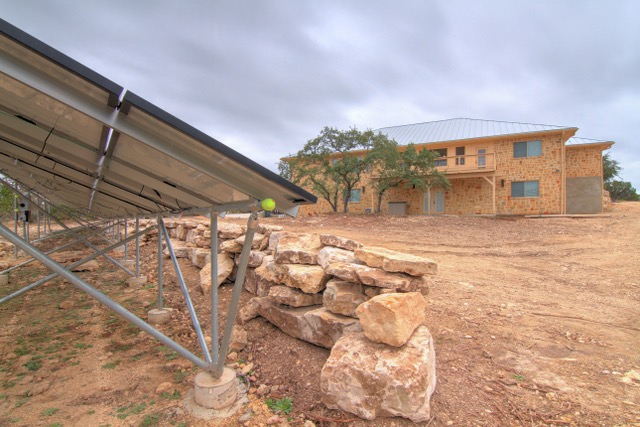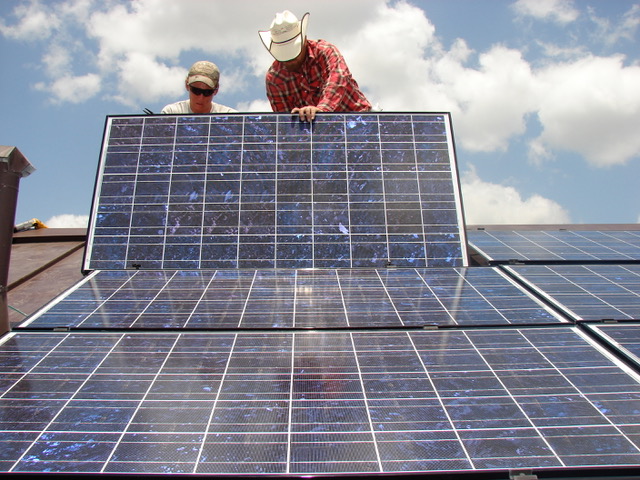 If environmental concerns didn't initially push McMaster into net-zero housing, recent impacts of climate change are reinforcing this business strategy for him. He fears that about 50 million people in the United States are vulnerable to drought conditions. "We have to figure out a better way to use water," he says, noting that water is used for cooling in multiple modes of generating electricity. Even hydroelectricity places a burden on the United States' water resources. Consumers often don't make the connection between residential consumption of electricity and its impact on the overall water supply. "If you want to save water," McMasters suggests, "then turn off your lights."
Although Sustainable Homes has been heralded by federal officials for its net-zero carbon homes, McMasters says that antiquated housing codes present a significant barrier to their wider embrace. He says that 85% of homes are built to a code minimum that hasn't received substantial overhaul since the 1980s. When he delivers TED talks on the subject, he uses the prop of a cellular phone, much like the one that was considered cutting edge when held by Michael Douglas in the 1985 movie "Wall Street". He asks his audience if they would rather have the latest iteration of an iPhone or the Michael Douglas model, wondering aloud why in a country where only a 64-year gap separated the Wright brothers first getting an airplane aloft for a 15-mile trip and Neil Armstrong's first trip to the moon, why can't the technology in home construction make more impressive advances?
Last modified: March 28, 2023