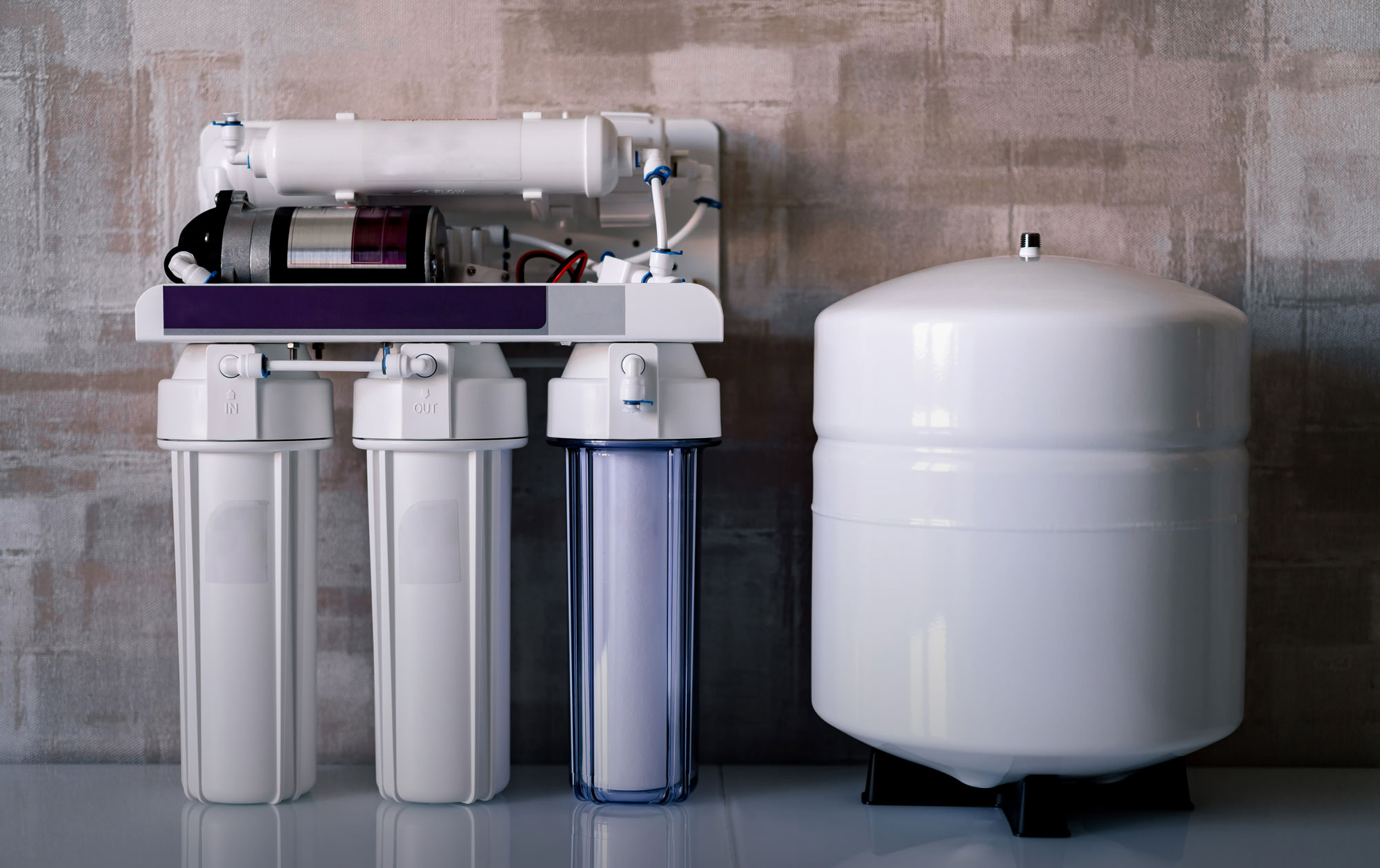 PRODUCTS ACHIEVING CERTIFICATION WILL SAVE AN AVERAGE OF 3,000 GALLONS OF WATER PER YEAR
---
Reverse Osmosis (RO) is the process of purifying water by using a semi- permeable membrane and water pressure. It is used by bottled water companies, desalination plants, and by homeowners and businesses at the point of use (POU) or point of entry (POE) to remove contaminants from drinking water. Throughout the United States and globally, tens of millions of households have POU RO systems installed in their kitchens to reduce heavy metals such as lead and arsenic, inorganic chemicals such as nitrates, PFAS chemicals, along with a host of other contaminants that may be found in drinking water. While RO systems are an effective means to purify drinking water, they also use a lot of water during the treatment process. A typical POU RO system sends around 5 gallons of water down the drain for every gallon of purified water it produces.
To help conserve water, the U.S. EPA's WaterSense® program has developed a draft specification to label water efficient POU RO systems. Once the draft specification is complete, consumers will be able to purchase WaterSense-labeled RO systems that are significantly more water efficient, sending 2.3 gallons of water or less down the drain for every gallon of purified water produced. The specification will also ensure that WaterSense-labeled® RO systems will be just as effective at producing high quality purified water.
Consumers who plan to purchase a WaterSense-labeled product will reduce an average of nearly 3,000 gallons of water per year or approximately 50,000 gallons of water over the systems' lifetime when compared to a typical POU RO system sold today. EPA estimates that if all POU RO systems sold in the United States were WaterSense-labeled we could save nearly 3.2 billion gallons of water annually.
Draft Specification
EPA WaterSense specifications have been developed to help manufacturers sell water efficient products that meet EPA's criteria for performance to earn the WaterSense label, which is designed to help consumers easily find and identify products that use less water and perform as well as less efficient products. EPA has WaterSense labeling programs for faucets, showerheads, toilets, urinals, irrigation controllers, spray sprinkler bodies, and pre-rinse spray valves. Because the program has been around for many years and is extremely popular, consumers are familiar with the WaterSense label.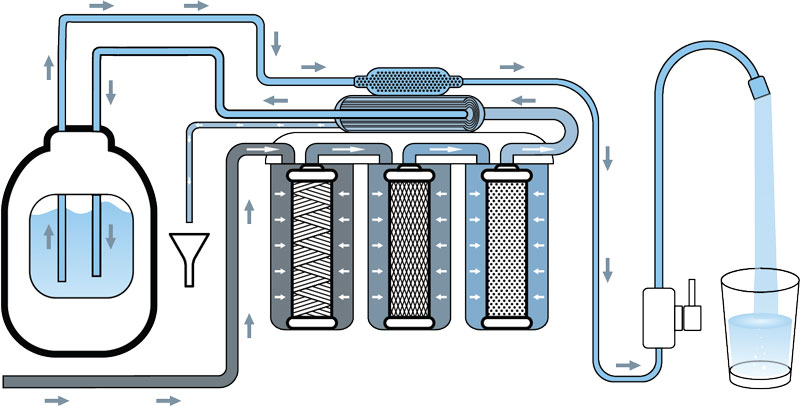 ---
A federal standard does not exist to regulate the water efficiency or performance for POU RO systems sold in the United States. However, industry standards that have been developed and referenced in the model plumbing codes such as the Uniform Plumbing Code® (UPC®), the National Standard Plumbing Code® (NSPC®), and the International Plumbing Code® (IPC®) have been developed and are widely used. The IAPMO Water Efficiency and Sanitation Standard (WE•Stand™), developed as a stretch code for sustainable products, also references RO performance and efficiency requirements. The two standards that have been developed for POU RO systems are NSF/ANSI 58 – Reverse Osmosis Drinking Water Treatment Systems (NSF 58) and ASSE 1086 – Performance Requirements for Reverse Osmosis Water Efficiency—Drinking Water (ASSE 1086). Both standards are designated as American National Standards (ANS).
Standards
NSF 58 was initially published in 1986 and was based on the 1984 Water Quality Association industry standard, WQA S-300, to test the safety and performance of POU RO systems. NSF 58 has been revised numerous times over the past 27 years, but it continues to include the following performance and safety tests.
Material Safety – this test is designed to ensure the system will not add contaminants to the drinking water above safe levels. Water treatment systems are designed to improve water quality, so it is important the materials do not unintentionally add chemicals at harmful levels.
Structural Integrity – these tests are designed to ensure the product can withstand typical water pressures and water hammer found in homes and businesses.
Contaminant Reduction – these tests evaluate the performance of the system to reduce chemicals that may be found in drinking water. Products are required to pass the total dissolved solid (TDS) test but may also be tested to reduce a variety of other chemicals such as lead, mercury, arsenic, chromium, PFAS chemicals, nitrate/nitrite, and other particles or nuisances found in water such as asbestos, cyst, and turbidity.
The NSF 58 standard also has detailed requirements for information that must be included in the installation, operation, and maintenance instructions, the data label on the product, and a performance data sheet that must be available to potential buyers.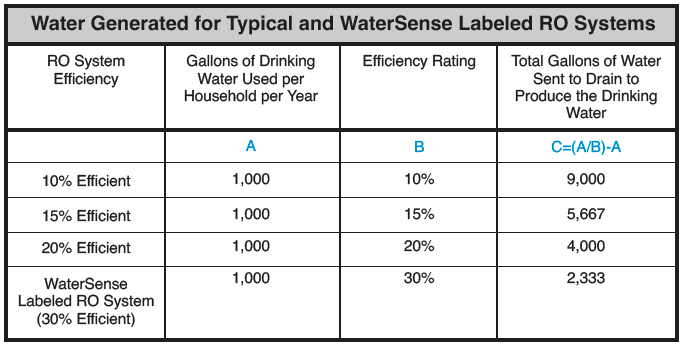 ---
NSF 58 also includes a test to evaluate the water efficiency of the system. However, the test was not designed around typical tap waters found in the United States, so it is not able to determine if the changes made to make the product extraordinarily efficient will impact the life of the RO membrane. For this reason, the ASSE 1086 standard was created.
ASSE 1086 was originally published in 2020, revised in 2022, and is under revision to potentially match the water efficiency requirements in the WaterSense draft specification. ASSE 1086 includes the following requirements.
Testing to the minimum requirements in NSF 58 is a prerequisite for the ASSE 1086 standard. Companies that choose to certify their product to the ASSE 1086 standard will also qualify for NSF 58 certification.
POU system membrane life test – this test is designed to evaluate an RO membrane's useful life. The test simulates a minimum one-year life for the membrane using a designed synthetic tap water that is difficult for the RO to treat. During the testing the system must reduce the TDS by 75%, the flow must not decrease by more than 50% and the water efficiency must be 40% or greater. The draft WaterSense specification requires 30% or greater water efficiency.
Membrane only life test – this test was designed for RO membrane companies so that they could market their highly efficient membranes to system manufacturers.
The ASSE 1086 standard also includes detailed requirements for installation instructions, specification sheets, maintenance instructions, and markings.
Water Efficiency Criteria
The EPA draft specification for POU RO systems requires products to be tested and certified to the NSF 58 standard and be tested to the ASSE 1086 standard. It is important for EPA WaterSense to specify both standards because of the membrane life test included in the ASSE 1086 standard. Without this test products could be manufactured to pass the seven-day per NSF 58 and obtain a minimum (30%) efficiency but may fail to function over the expected life of the product. Because RO membranes are not replaced prior to at least one year, this test ensures that products will perform as marketed for a minimum of one year when operating at the WaterSense labeled water efficiency.
EPA WaterSense has specified a minimum efficiency requirement of 30% for tank and tankless systems. The efficiency testing is conducted in accordance with the test criteria specified in NSF 58. During the membrane life test in ASSE 1086 the system shall also maintain an efficiency of at least 30%. The 30% efficiency threshold achieves the WaterSense program's goal of labeling products that are at least 20% more water efficient than current products on the market. Assuming current POU RO systems operate at an efficiency of 15%, the specification will improve the water efficiency by 50%, well over the 20% goal. Table 1 is taken from EPA's draft specification, and it compares the water used by typical POU RO with an EPA WaterSense labeled POU RO.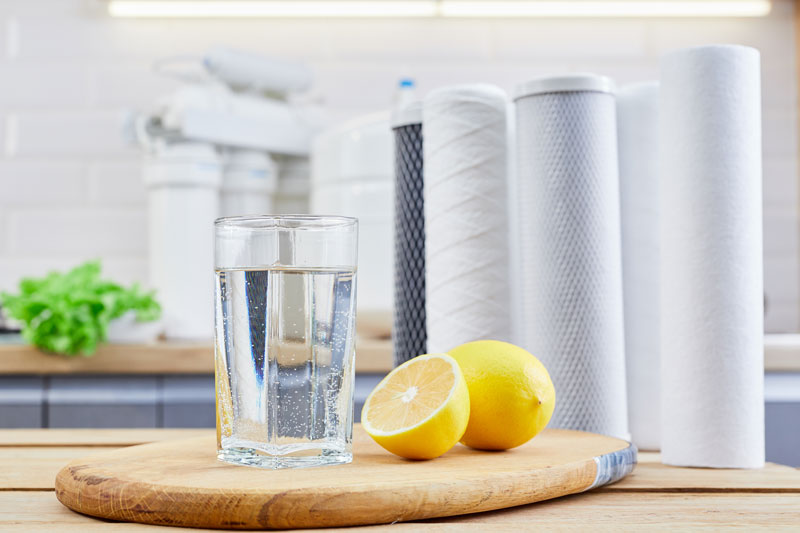 Performance Criteria
In addition to the water efficiency criteria, EPA has identified membrane life, contaminant reduction, and filter lifespan as critical aspects of the POU RO system performance. The ideal POU RO system reduces drinking water contaminants, is easy to maintain, and operates efficiently. Because there can be a trade off between RO system efficiency and the membrane life, EPA has required testing to the ASSE 1086 standard. It has further modified the efficiency pass/fail requirement from 40% in the standard to 30%. The ASSE 1086 standard includes a 20-day test to produce a total product volume of 1,000 gallons, using a difficult challenge water that places more stress on the membrane than typical tap water. This test is designed to represent a minimum of one year product life for the membrane that is used to purify the water.
To meet the EPA WaterSense requirements, all chemical reduction claims and mechanical filtration claims are required to be tested and certified to the applicable drinking water treatment standard. The NSF 58 standard requires the manufacturer to test the RO system for TDS reduction; all other chemical reduction performance claims are voluntary and must match the claims being marketed. If chemical reduction claims are being made on the pre and post filters, they would be tested to the applicable industry standard as specified in the NSF 58 standard.
Packaging and Documentation Requirements
In addition to the NSF 58 and ASSE 1086 instruction and operation requirements, data plate requirements, and performance data sheet requirements, the WaterSense specification establishes packaging requirements to clearly communicate the water efficiency and performance of the POU RO system. All WaterSense-labeled POU RO systems are required to include a statement that clearly indicates the product's water efficiency rating and the associated waste to product ratio on the product packaging and other point of purchase product documentation. If a product was certified at a 30% water efficiency, the waste-to-product ratio would be 100%/30% – 1 = 2.3. The RO system would send 2.3 gallons of water to drain for every 1.0 gallon of water produced. In this example, the waste-to-product ratio would be 2.3:1.0.
Contaminant Reduction Claims
The WaterSense specification allows companies the flexibility to make performance claims under the current practices allowed in the NSF 58 standard. However, the specification also wants to make it easier for the consumer to understand which performance claims have been tested andcertified, so it requires a table be included on the outside packaging of the product.
The specification also outlines specific chemicals that must be included in the table along with any additional chemicals the system has been tested and certified to reduce. WaterSense chose these chemicals afterconsulting with the EPA Office of Ground Water and Drinking Water to identify the chemicals it felt were a priority for consumers. The industry has submitted several questions on the requirements in the table so there may be changes in the final specification. Above is an example of the table with the required contaminants specified. Additional tested and certified performance claims can also be included in the table; for this example only the required contaminants are listed.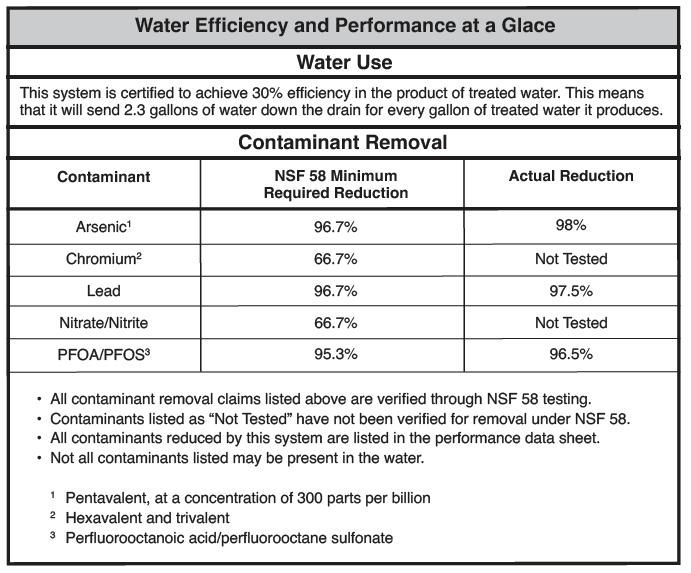 ---
Certification and Labeling
Similar to the existing WaterSense programs, the certification and labeling process is carried out by independent, third-party product certification programs described in the WaterSense Product Certification System, https://www.epa.gov/watersense/certification- systems#products. Products are certified to applicable WaterSense specifications by accredited licensed certifying bodies. These certification bodies apply for their license directly through EPA WaterSense. Organizations like IAPMO who already provide WaterSense certifications would add the RO specification into their WaterSense scope. Manufacturers are authorized by the licensed certifying body to use the WaterSense label after testing is complete and all certification requirements have been met.
WaterSense continues to work with the industry on the draft specification so there may be some modifications to the specification when it is finalized. If you have questions or concerns, EPA encourages stakeholders to contact it. Based on the comments received thus far, EPA anticipates the final specification will be released later this year or early 2024.
Last modified: October 2, 2023