IAPMO SCB PARTICIPATES IN EVENT CONNECTING CALIFORNIAN AND MEXICAN MANUFACTURERS AND SUPPLIERS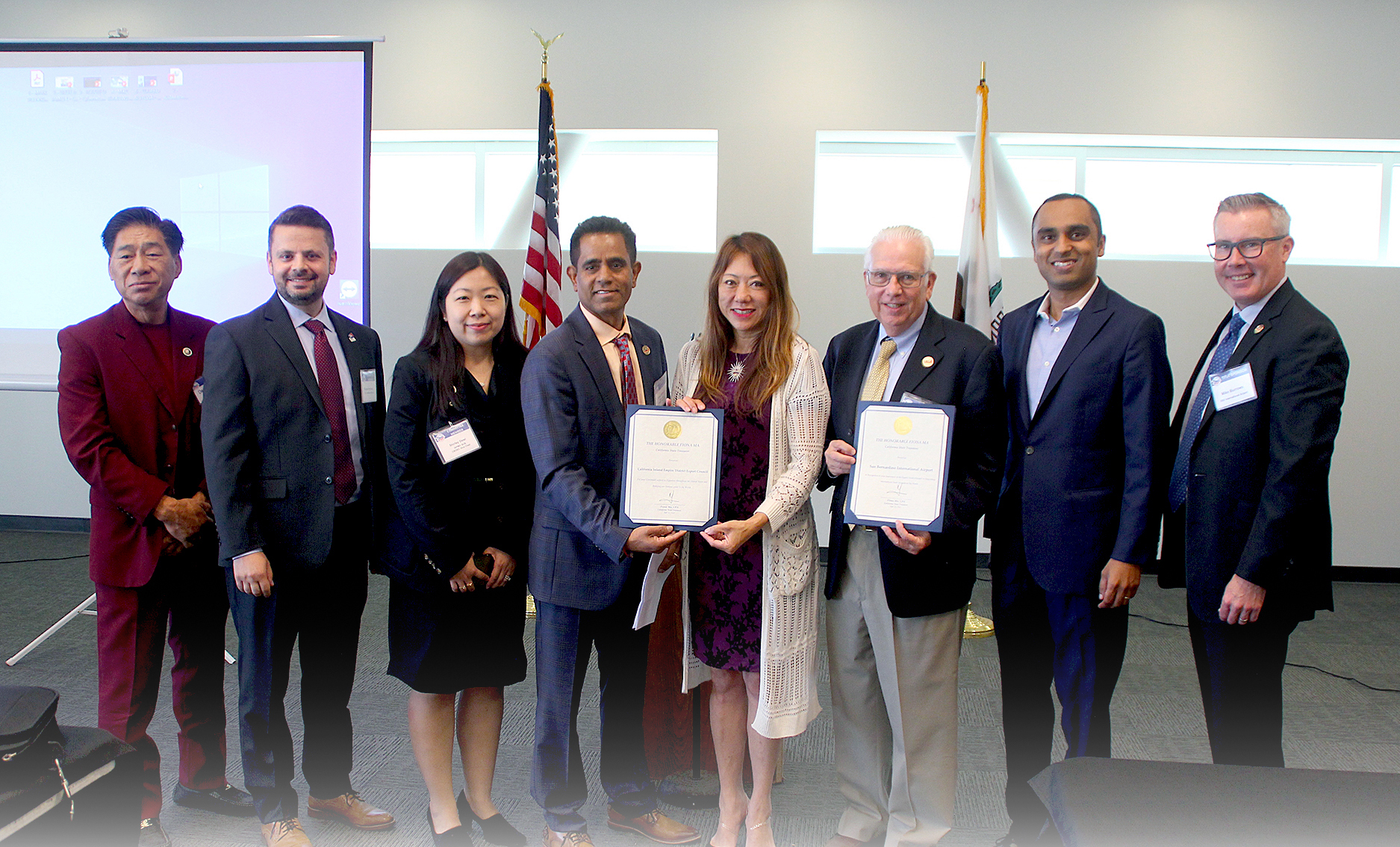 IAPMO SCB (Systems Certification Body) was well represented at the inaugural CAL-MEX Aerospace Expo, an event held Sept. 22 at the San Bernardino International Airport (SBD) whose aim was to connect California aerospace manufacturers with suppliers and raise awareness about export opportunities in Mexico.
The event was organized by the California Inland Empire District Export Council (CIEDEC), a diverse group of volunteer trade professionals dedicated to helping the development of export sales and thus contributing to the national export program.
Shirley Dewi, senior vice president of IAPMO SCB and vice chair of CIEDEC, helped organize and publicize the event, and Brett Pollock, director of Sales, Supply Chain Service and Systems Certification for IAPMO SCB, was among the presenters.
The expo brought together government officials, manufacturers, exporters, and related service providers. A delegation of nearly two dozen people from Baja California, including a representative from Tijuana Mayor Montserrat Caballero Ramírez's office, was among those in attendance.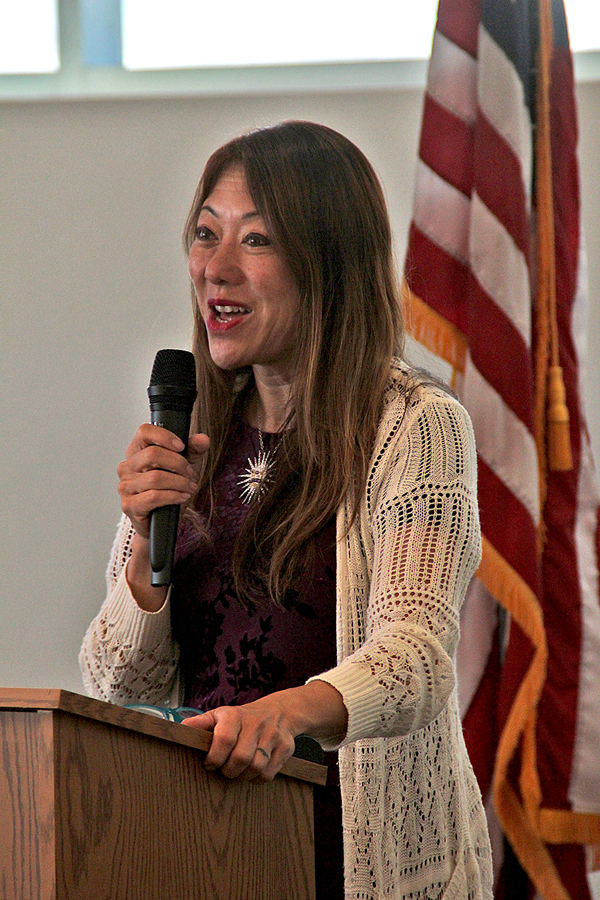 In welcoming attendees, CIEDEC Chair Bob Spence said the opportunity to make deals was one of the export council's primary goals, and he encouraged audience members to network as much as possible.
"We have many amazing people from Baja, and I hope you have a chance to interact and meet with them, but even among yourselves, this is all about not only education but how to facilitate your deal-making," he said.
California State Treasurer Fiona Ma delivered opening remarks and presented CIEDEC and the San Bernardino International Airport with certificates commemorating the event.
She credited efforts by Jeff Bezos (Blue Origin), Richard Branson (Virgin Atlantic) and Elon Musk (SpaceX) with renewing interest in aerospace, which led to Vice President Kamala Harris announcing the creation of a space coalition whose members will include SpaceX, Blue Origin, Boeing, Lockheed Martin, Northrop Grumman, Amazon and Virgin Orbit. The coalition's goal will be to broaden the aerospace industry and make the United States more competitive because other nations are also getting into the space exploration technology field.
"So that's where all of you come in," she said. "Thank you for all being here. I know six months ago it probably wasn't the sexy topic, but now that the White House is on it, I'm sure they're going to start trying to figure it out, how to allocate more money, how to bring more attention, and that means all of you, hopefully, are going to get more jobs. One thing that I know is important is how are we going to find the people to do these jobs?"
Ma then introduced Dr. Angelo Farooq, whom Gov. Gavin Newsom appointed as chair of the California Economic Development Board, to discuss types of jobs and funding that are available for the industry.
Pollock and James Lozos, president of Systematic Quality Management Systems, spoke about the benefits of AS9100 certification and important upcoming changes. AS9100 is a quality management system designed specifically for the aerospace industry that includes and builds on IS0 9001, the baseline standard.
Pollock listed the industries that SCB serves, which include general manufacturing, machine shops, coatings, chemical, rubber and plastics, and one that has gained considerable momentum over the past five years — government contractors.
"Service providers working with government contractors are finding the need to get certified more critical when they're bidding on job opportunities with the government. The more certificates they have, they have a little bit better shot of getting that business. So, we've been seeing a very, very big push over the last five, six years for service providers that are working and selling to the government."
Other presentations included updates on trends and policy; export control/International Traffic in Arms Regulations (ITAR); cyber-pilot training certification. He said the forum provided an ideal setting for stakeholders to learn and advance their common interests.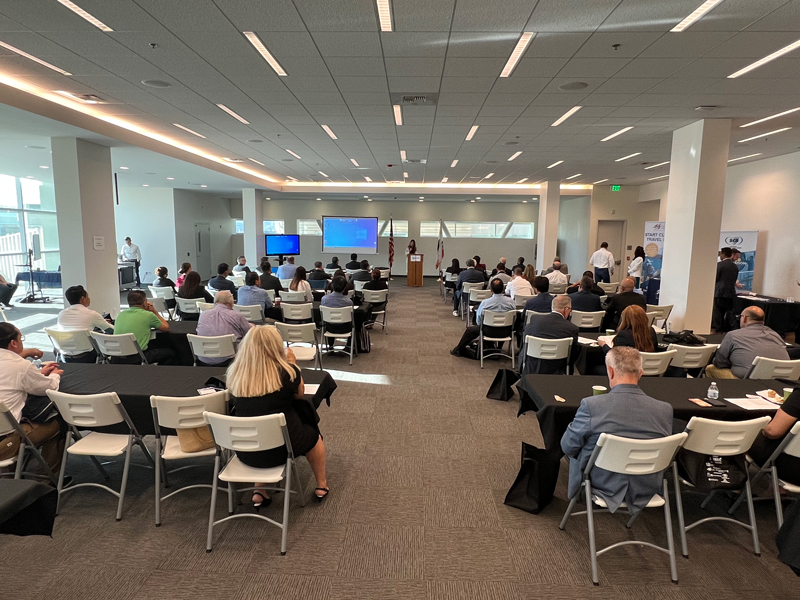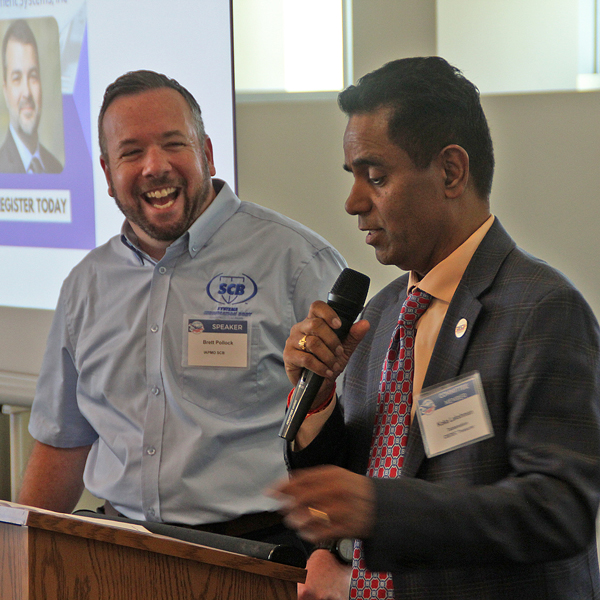 "You want a good group where people can engage, they can interact, they can actually get into the meat of what they do as a business and as an industry," he said, "and I think the group is right-sized for the marketplace and being able to make those connections because you want a lasting connection out of events like this, and I think this forum's created that opportunity."
Eduard Roytberg, director of the U.S. Department of Commerce's Commercial Service office in Ontario, California, and CIEDEC's executive secretary, delivered a joint presentation with Silvia Cardenas, a senior commercial specialist at the U.S. Embassy in Mexico City.
Roytberg said Mexico is the largest export market for Inland Empire companies, who exported close to $1.4 billion worth of manufactured products to Mexico in 2020 despite the pandemic. He said considering that aerospace is one of the largest manufacturing employers in California, Mexico is a critically important market.
"I think this is a great opportunity for companies to meet in person post-COVID," security essentials; drone pilot training; an overview of the aerospace sector in Mexico; aerospace export opportunities in Mexico; and doing business in Mexico. A B2B session followed the presentations.
SBD CEO Michael Burrows, a CIEDEC he said. "I think ultimately we want to have more B2B opportunities, we want companies to see more export sales coming out of this region, and I think this event would be a good venue for this type of networking."
Roytberg said events such as the expo are important because international trade is all about relationships.
"You never know where the next opportunity may come, and so this is a starting point," he said. "U.S. companies could meet buyers in Mexico, but we also have speakers from the U.S. Commercial Service, from DEC, from other entities; all of us work together to promote U.S. exports."
Speaking remotely from Mexico City, Cardenas pointed out that Mexico is the second-largest destination for U.S. goods, with an estimated $276 billion in 2021.
CIEDEC member Elizabeth Glynn, an adviser in export strategy and operations for EMG Global Business Solutions, discussed doing business in Mexico and the CAL-MEX Baja trade mission. She said the expo was a resounding success.
"There was a lot of positive feedback — from the Baja delegation and companies with which I spoke," she said. "Tomas Sibaja, as he was member, delivered a presentation on drone leaving, shared that companies already were asking about the upcoming Baja Trade Mission. Increasing awareness about export opportunities in the cross-border region, and the support available, will serve to engage more companies to export for business growth."
Dewi said IAPMO SCB was proud to be part of the expo.
"I was truly impressed with the educational aspect and seeing how many business opportunities this event brought," she said.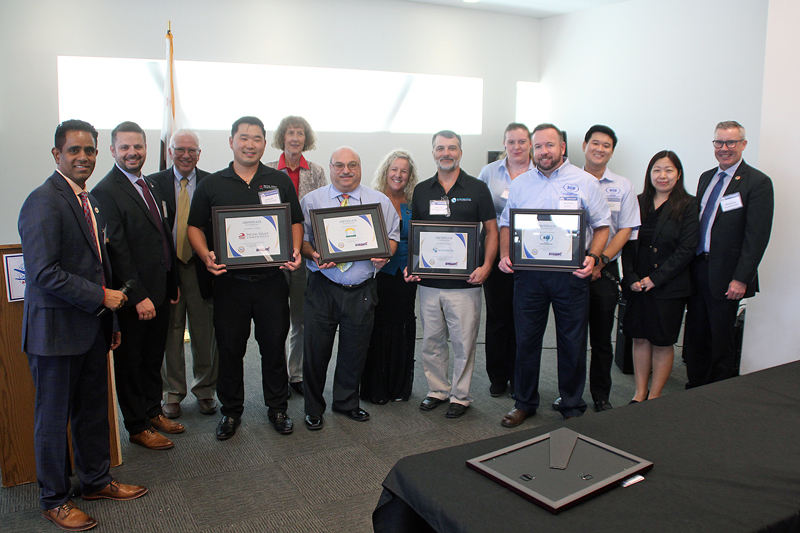 "We are so pleased that CIEDEC, with support from the U.S. Department of Commerce and the Baja Aerospace Cluster, hosted this well-attended expo, which provided a great platform for aerospace industries in California. We are looking forward to next year's CAL-MEX Aerospace Expo."
Koka Lakshman, CFO of Tablemation Solutions and CIEDEC treasurer, said it was exciting to see everything come together and called the event a huge success.
"As the emcee, I noticed what was being shared and discussed, and the best part was when some of these companies started talking about potential business opportunities in which they could work together," he said.
"San Bernardino International Airport was the perfect venue for our event, and we want to thank all of our speakers, sponsors and attendees for making this a memorable expo."
During the closing presentation, Tomas Sibaja, president of the Baja Aerospace Cluster, provided an overview of the Mexico aerospace sector.
"We are not government officials trying to lure you into looking to Baja to expand your operations," he said. "We're considered part of this aerospace region, and when you consider yourself part of an ecosystem — aerospace region — you don't see borders; you see bridges of understanding."
---
Title Sponsors:
City National Bank, SBD
Supporters:
Baja Aerospace Cluster
U.S. Commercial Service – U.S. Department of Commerce
Gold Sponsors:
ERS Consulting Services
IAPMO SCB
The International Business Office of Riverside County
Mexican Consulate — San Bernardino (via the IBO of Riverside County)
Pacific Coast Composites and
Systematic Quality Management
Systems
Bronze Sponsors:
Alliance Buyers Group
EMG Global Business Solutions ExIm20/20 Group
Kidder Mathews
Tablemation Solutions
Tbinxpress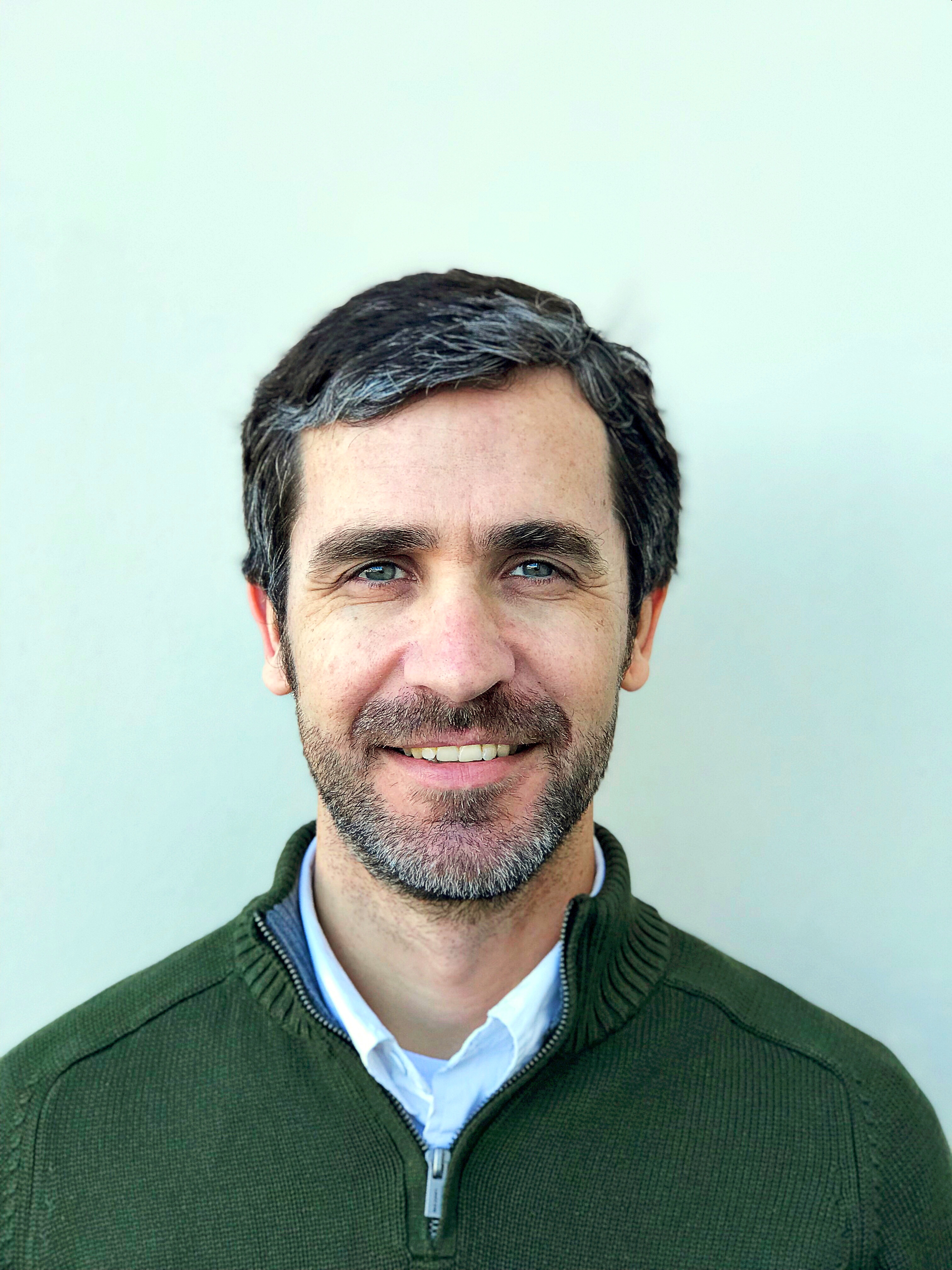 Mike Flenniken is a staff writer, Marketing and Communications, for t IAPMO. Prior to joining IAPMO in 2010, Flenniken worked in public relations for a group of Southern California hospitals and as a journalist in writing and editing capacities for various Southern California daily newspapers.
Last modified: February 28, 2023